SampleTank 3 July Release officially announced, with pre-order discount pricing (~$250) that will save you about $100.
It has been 10 years since IK released version 2 of SampleTank, and they have been pushing back the release date on this new version of their virtual instrument software for 'a while' now.  With over 30 GB of sounds, over 4,000 instruments, over 2,000 MIDI files and 2,500 loops, I think I could get my money's worth just in the entertainment value of playing each sound once.  Let's hope the samples themselves live up to the decade of hype that has preceded their release.
In addition to the sample library, and virtual-instrument type functionality, this latest incarnation aims to be more of a 'software sound workstation' and provides some pretty slick looking interfaces for production oriented use.  They have divided up the environment into three main interfaces; Play, Mix, and Edit.
As a performer who used to load beer soaked 3.5″ floppy disks into my sampler before every gig (yes I'm old), I'm particularly interested in the new "Live" feature that allows you to "…organize your sounds by setlist and song with smart sound loading for instant recall while you are on stage performing."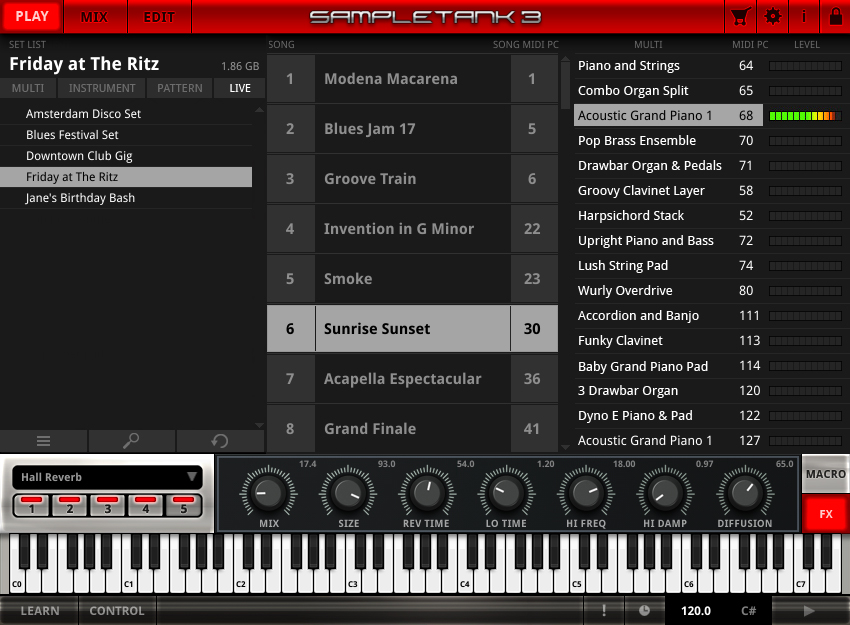 It's good to see that if I pay $250 bucks for a bunch of sounds, I won't need to load SampleTank as a plugin to a more performance oriented program if I want to use them in real-time.
Here are some release notes:
16 channel multi-part Play interface with easy layering and an integrated MIDI player and mixer
All-in-one sound Edit page with 3 sample engines (including formant preserving pitch-shifting and time-stretching engines),
10 filter types and 8 macro controls per instrument for quick multi-parameter editing
"Round robin" and multiple articulations that are triggerable via key switch, modulation wheel or velocity
Multi-channel mixer-like Mix interface with 5 insert effects per channel, 4 stereo effect returns (with 5 insert effects each) and a master channel with 5 insert effects that allow for up to 30 effects per instrument 55 high-quality integrated effects, including 22 new effects for mixing, mastering and more creative applications derived from IK's studio-grade T-RackS and AmpliTube production software
New Live mode lets you organize sounds for setlist and song for instant recall during performance
Accurate 3D renderings of instruments for easy identification and recall
Available as standalone and 64-bit plug-in for AAX, VST and Audio Units platforms on Mac OS X and Windows Compatible with all previous "Powered by SampleTank" sound modules and sounds (can import all previous sounds and Combis)
They have a pretty thorough product description here if you want the details: http://www.ikmultimedia.com/products/sampletank3/
This is a new version of the product, and will only run on a 64bit system (Mac/PC).  Even if you purchase the upgrade, you'll have to re-import your projects from previous versions.
| | |
| --- | --- |
| Supported Computer Format | Mac, PC |
| Supported Plug-In Formats | Standalone, Audio Units, VST 2, VST 3, AAX |
| Hardware Requirements – Mac | Intel Core 2 Duo, 4 GB of RAM |
| Hardware Requirements – PC | Intel Core 2 Duo or AMD Athlon 64 X2, 4 GB of RAM |
| OS Requirements – Mac | OS X 10.7 or later |
| OS Requirements – PC | Windows 7 or later |
DAW
,
Plugins
,
Samples
,
Virtual Instrument